It's an acronym for White-Rim-In-A-Day, WRIAD. The
White Rim
trail in Canyonlands National Park, Utah.
The white rim trail is 102 miles long--a loop that encircles a section north of the confluence of the Green River and the Colorado River within the park. There are several campsites and there are exciting opportunities to hike and bike here. One common activity is to do a multi-day sag-wagon trek on bikes around the canyon, sleeping at various campsites along the way. These trips are excellent and fun and usually involve camping two to three nights during the trip. I have done this twice and highly recommend it.
There is also the option of just riding it all in one shot, like the jeepers do. Like many endurance cyclists do.
That is what we did this past weekend.
Michael, Rob and I arrived in the area Friday afternoon and set up a nice little cooler of water and food near the entrance to Canyonlands National Park. We then drove west on Mineral Bottom road and down into the canyon seeking a nice campsite. That section of the trail is BLM land so camping is fine without a permit.
We found an excellent site just a few miles from the steep hill we planned to ride up the next morning. Our plan was to ride clockwise up the canyon and East on Mineral Bottom road hitting our cache and filling up for the remaining 80 miles.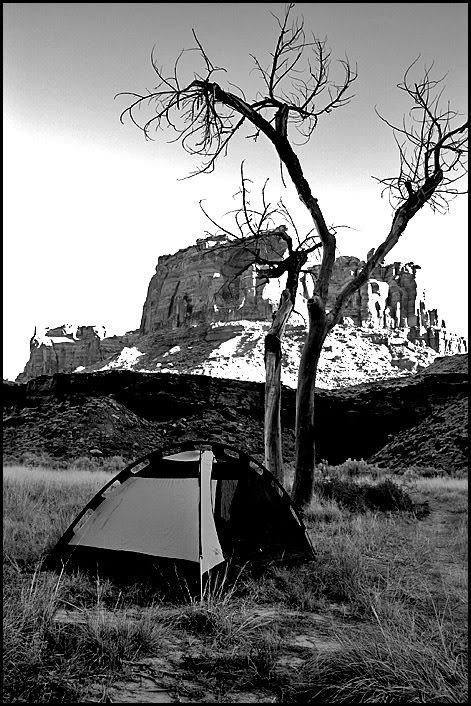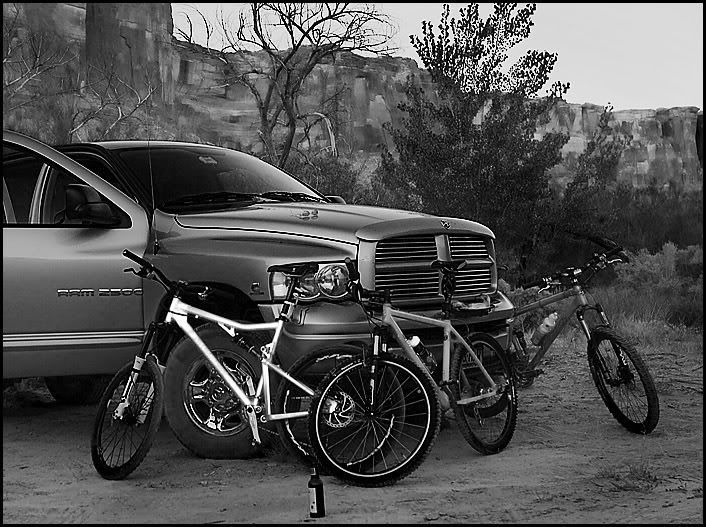 We chowed-up on spaghetti with meatballs and salad along with a beer before crashing early. The food was good and filling. The beer was soothing.
It was three days after a full-moon so the night was very bright once the moon was high in the sky. I was up around 3:00 am viewing a very spectacular canyon in admiration. I tried to take a photo but without a tripod or stable platform, it was too difficult.
Up at 5:00 am, we made coffee and breakfast and loaded our packs. We left at 6:30 am in the dark with lamps ablaze.
After a nice flat warm-up of a couple miles, we climbed out of the canyon to Mineral Bottom road. It was a nice climb in the dark. Steep but manageable.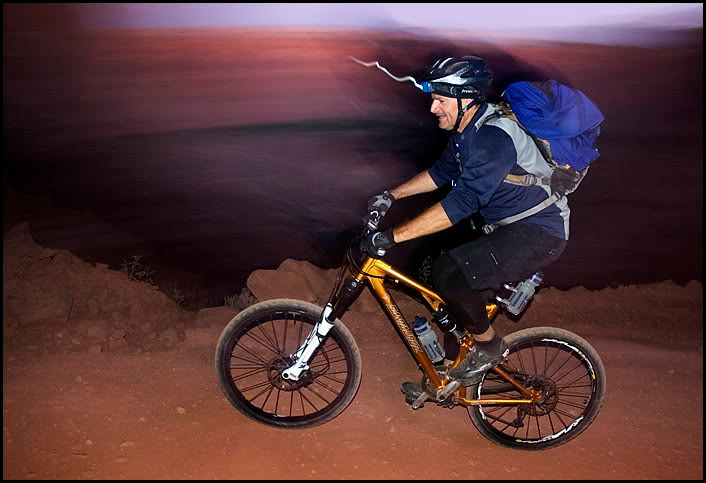 At the top, which took about an hour to get to, the sun was rising. We had climbed 1000 feet already. Whoo Hoo.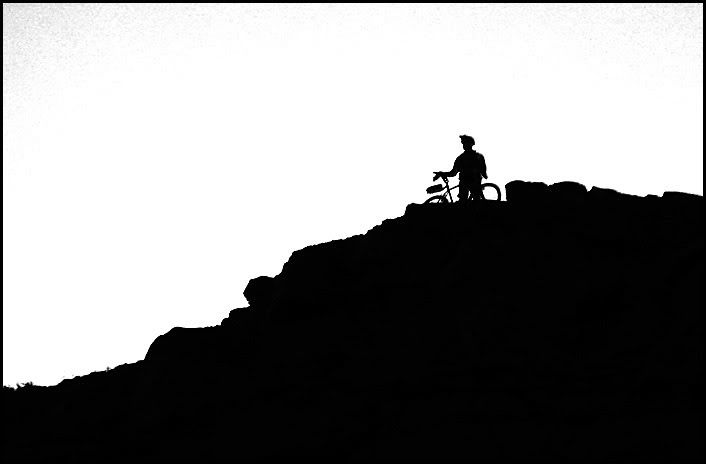 The next 12 miles on Mineral Bottom road must be the longest and most boring riding ever. But I have to say, at least it was cool and smooth.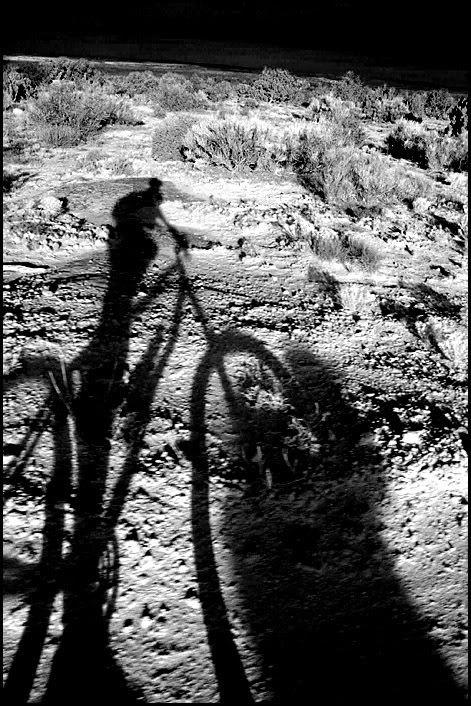 Then there was the five miles of even more boring pavement to Shafer trail.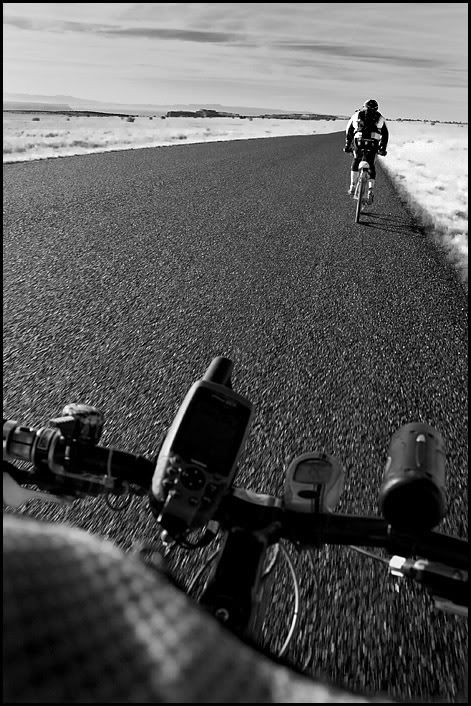 This was when I found my water bottle cage broken--out came the zip-ties.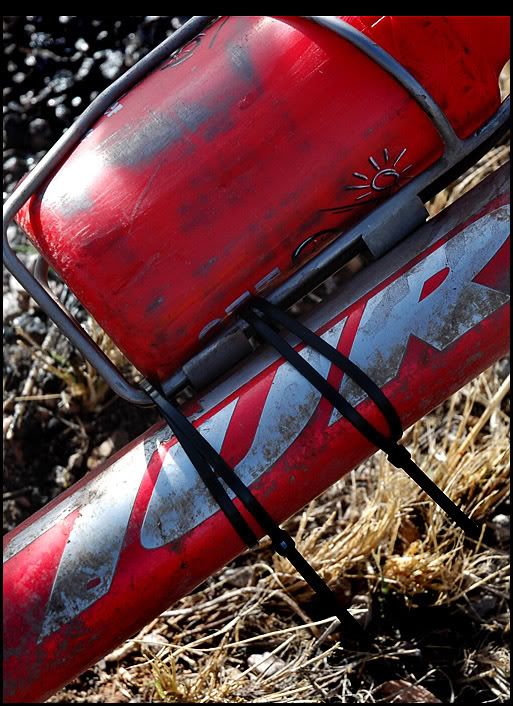 Anticipation of the views was exciting though.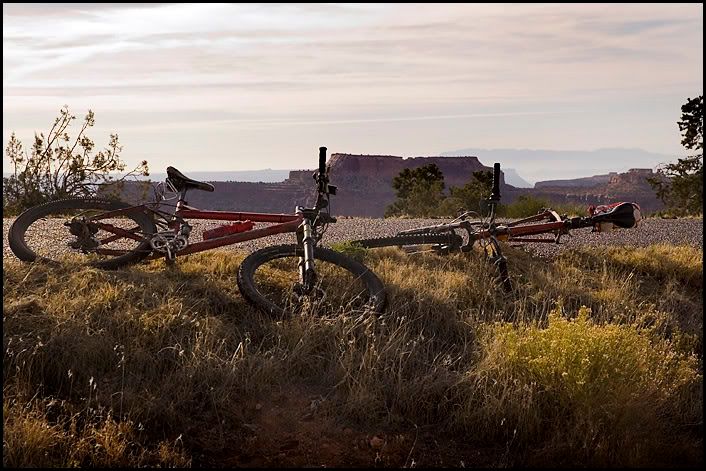 We climbed 2300 feet and are ready to get our cache and enter the park. Michael is not feeling the vibe. We discussed it and he decided that he'd rather not chance it and just go back. Rob and I pushed onward (Later we will find that Michael made a good choice). We grabbed our food and two bladders of water. My food was two turkey sandwiches, two chocolate milks, trail mix, two Bobo bars and another bottle of Gatorade. Rob took around five sandwiches, pretzels and other stuff.
My pack seemed to weigh too much--25+ lbs. Luckily it was downhill for a while.
On the way down Shafer trail.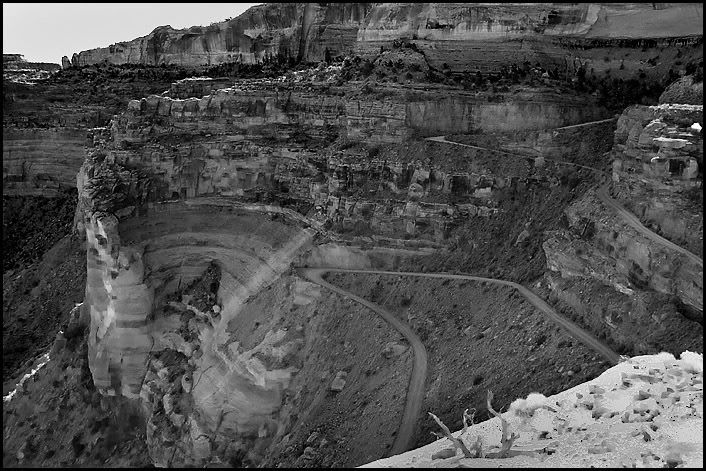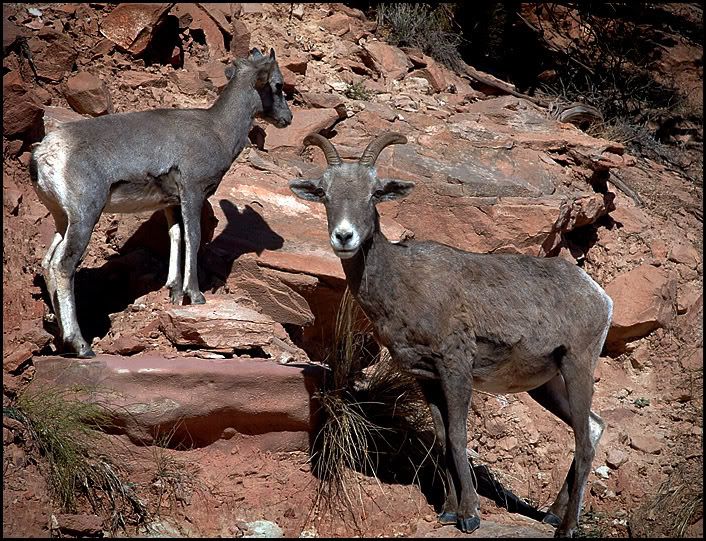 The views of course are overwhelming...and continuous. Out in the distance are features and every few miles the White Rim trail skirts to the edge of a canyon that usually has a dramatic cliff.
Musselman Arch was early on our stops.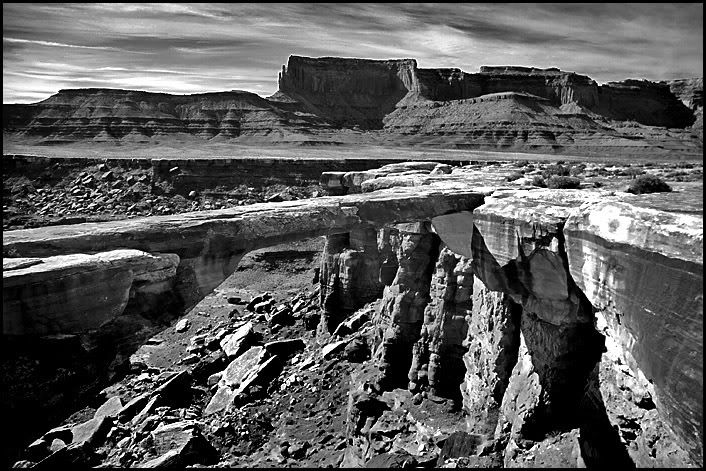 There were many more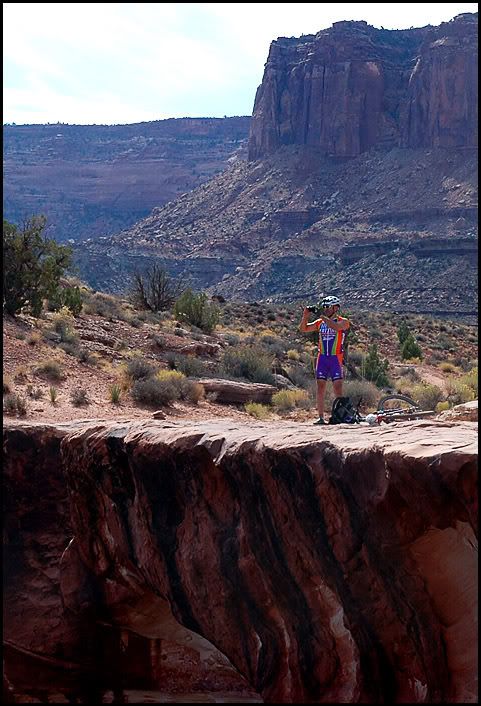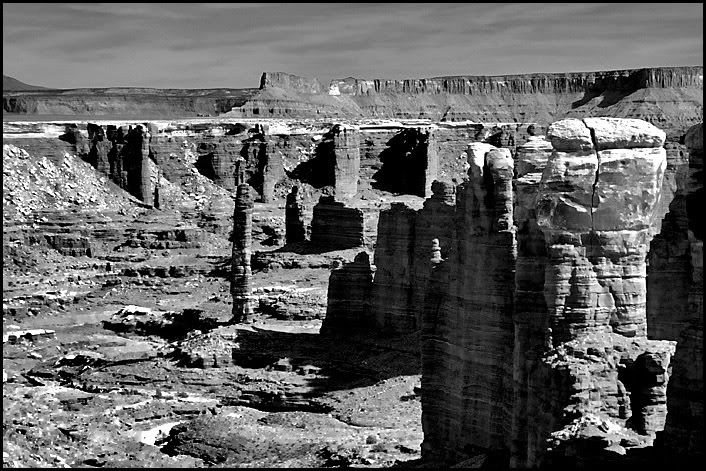 The trail seemed endless. Miles 35 to 50 were very rough. Rob and I sought out the dirt edges of the slickrock were were riding on. I normally hate sand but any smooth sand here was a welcomed feeling.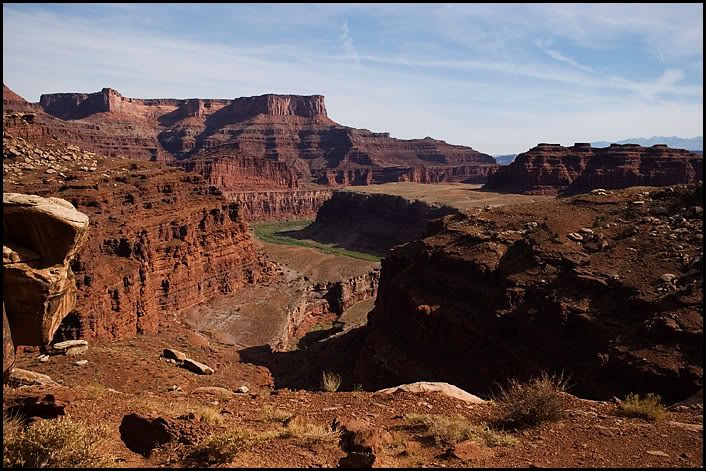 After 60 or so miles we encountered Murphy's hogback. It was very steep. Normally it's steep, but after all the riding, it was very steep, I mean too steep.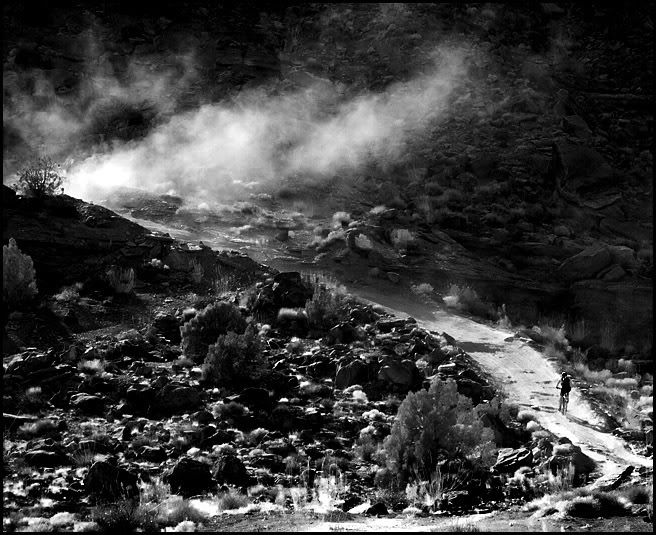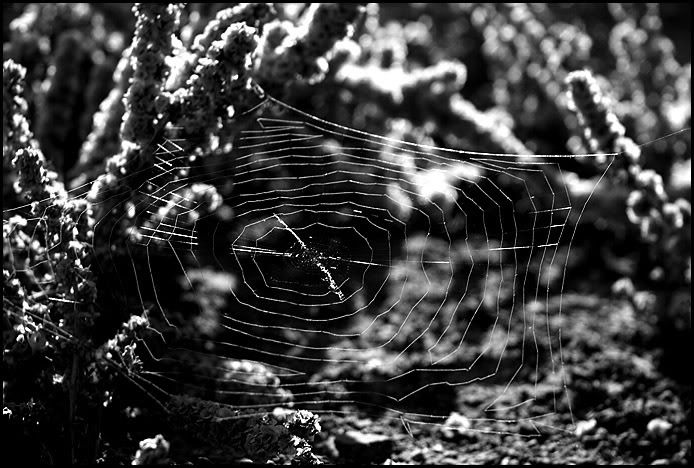 Once Past Murphy's hogback, there we were on the Green River side of the trail, and the sun was falling fast. Fatigue was setting in but the views were as spectacular as ever.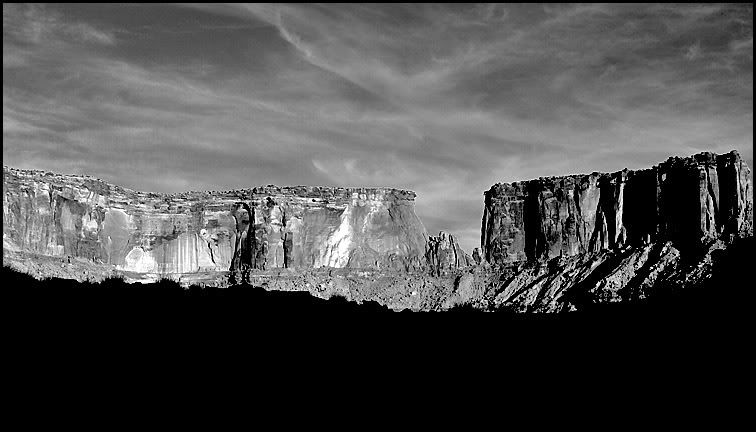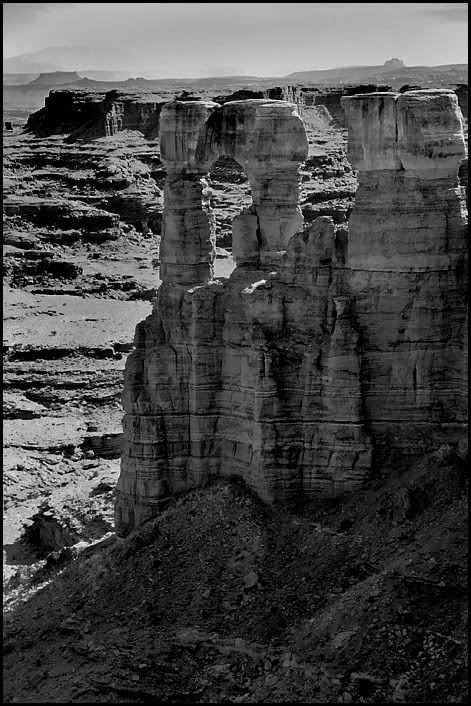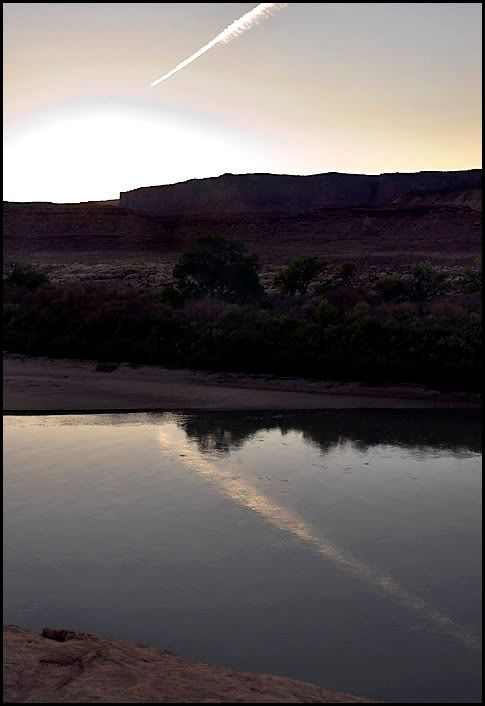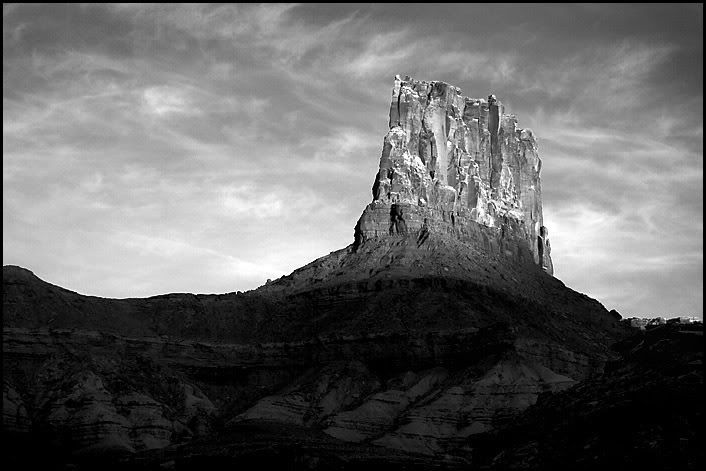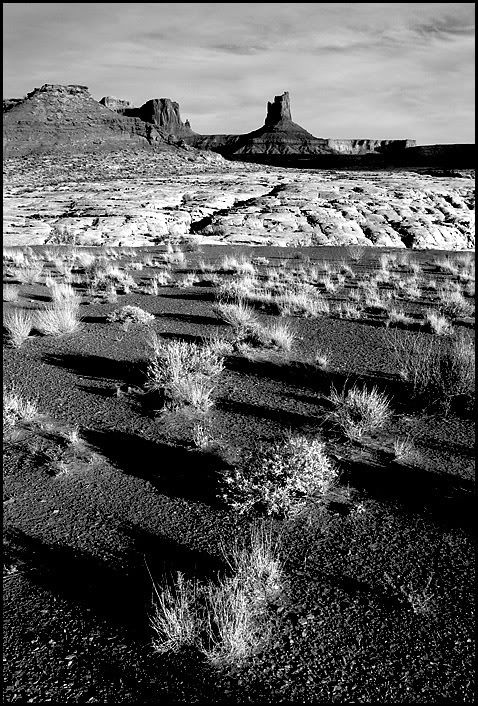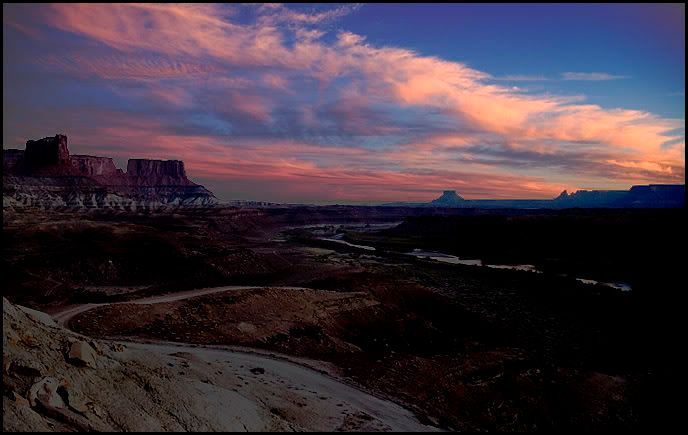 I recall mile 75 being a major point in the ride for me. I describe it as waking up with the flu, drinking several shots of hard liquor and then going on a 25 mile ride. I felt intoxicated, aching and ill, and had really no choice but to ride. I told Rob to ride ahead and make sure Michael knew were were coming. Rob was riding strong and didn't need to babysit me.
When I got to the top of Hardscrabble hill, I realized I was going to spend some time in the dark so I got out the light. I also noticed my drive train was packed in sand and crunching so I poured oil on it. I slipped on my arm warmers and set out for my final 10 miles. I could feel that sense of urgency and survival instinct already setting in.
Those ten miles were rough. It was dark, my eyes were playing games with my brain, there was loose sand everywhere that I couldn't see even with my light and I was wiped out.
I recall looking at my cycle computer and GPS, thinking I might have gone a half mile and all I went was a tenth. It was brutal and long.
Finally I rounded a corner and saw the light of our camp, 11 hours of riding and 13.5 hours of total time elapsed. I almost collapsed when I got to the campsite but the feeling of finishing gave me the last jolt of adrenaline that kept me on my feet.
It was amazing. It was hell. It was over.
The lessons I learned:
--My shoulders were the most sore part of my body. I was worried about sand and saddle sores but never expected my shoulders to ache--and they really hurt.
--If Michael had driven back toward me and I met him at 15 miles before the end, I would have given up without hesitation--I was even hoping for it. You can push yourself a lot longer than you think, even if you are suffering to the point of severe pain.
--I read about a lot of people riding this and thought it would be easy with moderate training. I trained by riding a lot of 40+ mile rides on easy trails and roads and think I really didn't train enough.
--We stopped too often. 2.5 hours of stopping was a long time. Oddly, we never realized we stopped that much.
--I would rather get up earlier and ride more in the dark when I'm fresh than in than at the end when I'm wiped out.
--Tire choice really didn't matter. The sand wasn't all the bad.
--Camp at the end of the ride. Driving somewhere else is a crazy notion and just adds to the suffering--even if someone else is driving.