Our target date for White-Rim-in-a-day is Oct 7, 2012.
I built up my WRIAD bike using a Yeti ASR frame and parts from my other bike. At the moment, I'm focusing on hydration for the ride. Unfortunately, this frame only has one water bottle cage.
My plan is to take two 3-liter bladders of hydration fluid and two bike bottles of fluid. Last time, I used the frame cage and a saddle cage for the bottles. My new saddle won't accommodate that sadde cage mount due to geometry of such a comfy saddle! I could put a bottle in my pack with my two bladders but I am trying to get some of the weight off my back.
So getting creative, I came up with this for the extra bottle.
It looks like trying to rescue a beached whale by helicopter, but it seems to work for water bottles too!
Using a light weight camping strap, I found that I can strap a bottle to my stem and save a lot of weight over a bottle cage. And it's cheaper and lighter than a stem cage, which are available for this.
Here is the method.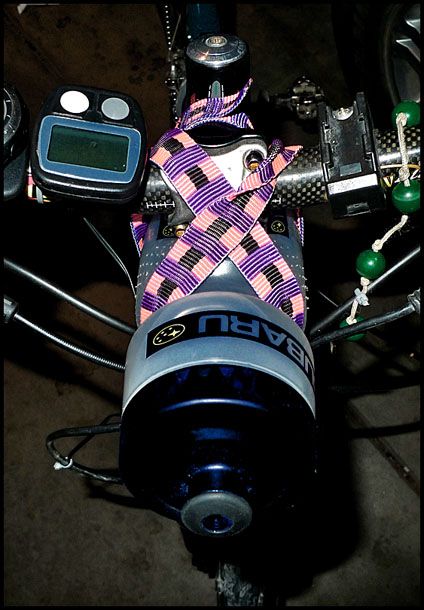 Ideally, the strap would be a little longer to get one more loop on the indented part of the bottle.
This can be used for ultralight bikepacking as well. I am a huge fan of minimizing those little expensive gadgets to mount stuff when it can be done something that weighs less that the gadget!
A big shake down ride this weekend will determine whether this works or not!