Aka ethnic food laughs.
We went to get some food tonight. Some sushi and some Thai at a local joint that has both but also sells knick knacks and other food items.
I browsed and found these....could not resist. I had to know and experience them.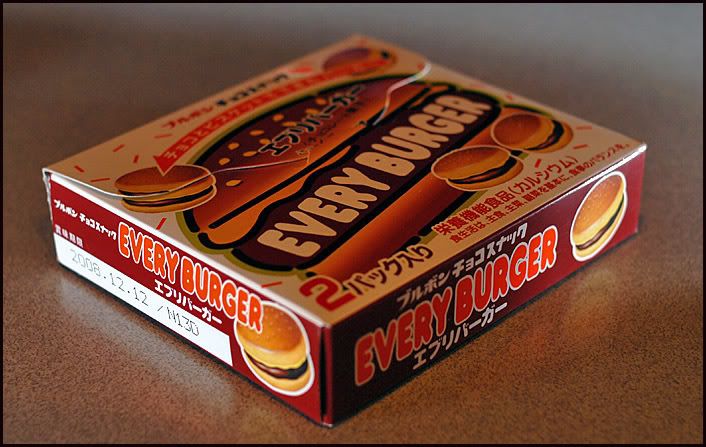 We take them home and proceed to munch on our Sushi and Thai food--yummy. The sushi was salmon and tuna plus some spicy Tuna Rolls. Very delicious. The Thai entrees were Pad Thai with chicken and red curry tofu. It was delicious as well.
So the moment of truth came. What in the world are the "Every Burger?" Gosh even the sound of every burger makes my mouth salivate from the anticipation of what looks to be a McDonald's single burger. This was in spite of me being full from the Thai food and sushi I just gobbled.
I studied the packaging before opening. The only other engrish, (er, uh, I mean english) words on the box were the ingredients and where it was produced, Tokyo, Japan. Ah ha, a Japanese treat. Ok, whatever.
Finally, after carefully opening the box and the silvery plastic foil, every single burger was revealed...ok only half of them, but I know every one of them are in there--it says on the box.
Yes, they are a tasty chocolate cookie treat. Very tasty indeed, despite being a burger.