Just like tires, I'm always trying to find the perfect glove. And just as ground conditions vary, so does weather.
The ideal riding glove keeps the hands warm, and especially the fingers that are on the handlebar exposed to moisture and the wind, yet not allow the hands to overheat, sweat and make the glove wet. Plus, they should have great mobility so the rider can still shift and brake--A tall order.
Here is the set of gloves I usually use from the fall through spring.
1. Some off the market Azonic brand. It's a normal full fingered glove but because it has some neoprene, it makes a great glove when the temps are above 50F. In fact, despite sweating hands, it makes a great glove at 90 deg temps too. It's one of my favorite gloves. I wish I had gotten a couple more sets. The nice patch on the back is soft and good for wiping sweat and snot. It's a very soft glove and never gets stiff after drying out.
2. Seirus ultra-light. I got this glove with high expectations after owning a glove from Seirus. This is a nice soft lined glove with leather palms and breathable back. It feels like it would be a nice warm glove. Unfortunately, it's not as warm as I expected. It's good from around 35 F to 50 F but the fuzzy liner is not all that breathable and it seems to be poor at wind resistance. Wind is a real issue on a bike because even if there is no wind, riding a bike creates effective wind.
3. Seirus all-weather. This is a great glove. It's light and agile and very breathable. It's also wind resistance but unfortunately, it's less waterproof than claimed. I have been caught in sleet and cold rain storms --and froze my fingers. Maybe the waterproofing wore off. It also had a nice grip that wore off fast and without it, it's kinda slippery. I use it in temps from around 35 F to 45 F.
4. Pearl Izumi Amphibian. This is the best glove I have ever used. It seems to work at nearly any temperature below 35 F. It's not as breathable as one might want but when I'm using it, my hands are not likely sweating. I have rarely had cold fingers using this, despite it being a five-finger glove.
5. Pear Izumi Lobster. The extreme choice. Everyone knows that mitts are best for warm fingers but it's hard to ride a bike in mitts. Thus, split the fingers and make a hybrid. The lobster. It's not quite as agile as a five-finger but it does give protection beyond what the amphibian does. Usually when I wear this glove, the temps are below zero F and my toes and face are my main concern.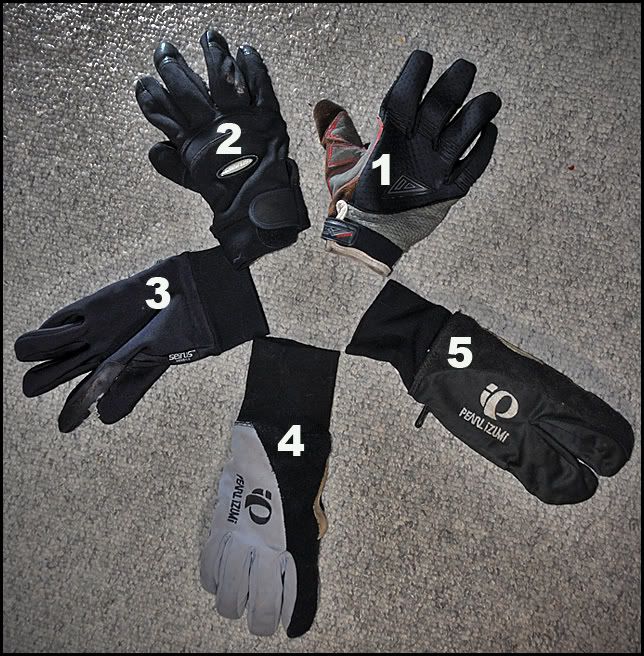 If I had to recommend the "kit" it would be a glove like the Azonic + the Amphibian. Those cover a majority of all riding. That is unless your climate is a lot different than the front range of Colorado.